Content of the page
Company presentation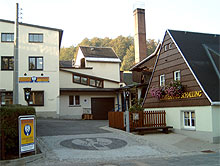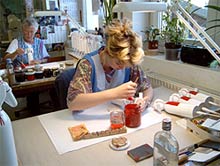 The company Emil A. Schalling KG in the town of Seiffen is a family business in fourth generation. Since foundation by Emil A. Schalling in 1904 the material wood has always been worked creatively. Wooden toys, doll's furniture and later arts and crafts like angel choirs and Christmas pyramids have been significant for the production range.
Proprietary articles of the Schalling company are the angel and miner figurines of light which are typical for the Erzgebirge. The light was essential for a miner working below ground. The miner's desire for light was especially highly revealed at Christmas. So the figurines which carried the light became symbols of Christmas in the Erzgebirge Mountains.
Using the treasure of forms and models of former generations totally new items for cribs have been developed by designer Günter Schwoboda in the Schalling company. In co-operation of wood and form the Bible events around the Nativity have been shown impressingly. In the meantime several Christmas pyramids have been decorated by these figurines. In addition they are also available separately as crib for collectors now.
The company Emil A. Schalling KG is a member of the Erzgebirge Association of Craftsmen and Toymakers, the Tourist Association and the Toy Museum Promoting Association.